Steps to Health
Health-promoting products for your wellness journey.
Infratonic 8000
by Sound Vitality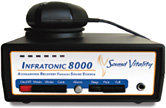 Break the cycle of pain with the help of the Infratonic 8000. This device combines eight ultra-low-frequency sound waves that penetrate layers of the body to dissolve cellular trauma of all kinds. Simply apply wherever your body needs healing. It works with all other modalities to remove barriers to healing, without messy gels, pads or side effects. Ask your doctor or visit www.soundvitality.com for more information.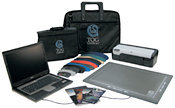 GaitScan™
by The Orthotic Group
More and more health care practitioners have discovered the multiple benefits of incorporating computerized pressure technology into their clinic. To meet this need TOG developed the GaitScan.™ A technologically superior pressure analysis assessment tool that improves the clinical evaluation process of patients by providing a clearer picture of foot mechanics. Call 1-800-551-3008 and visit our Web site at www.theorthoticgroup.com.

Cyrofood® - Multivitamin for the Ages
by Standard Process
As we age, we may need a multivitamin with bone and fiber support. Cyrofood, from Standard Process, combines the ingredients in Catalyn,® our original multivitamin, with other nutrients to balance the diet, support healthy tissue, and encourage healthy intestinal function. Talk with your health care professional or visit www.standardprocess.com for more information.

Chewable Dietary Supplement
by Chews-4-Health
Chews-4-Health is the world's first chewable super fruit, antioxidant, sea vegetable dietary supplement. Benefits are Anti-aging, Mental Focus, Immune System Enhancing, More Energy, Stamina, Strengthens, Nourishes, Revitalizes, Enhances Digestion, Skin Rejuvenation, Heart Healthy.* Call 1-800-211-4123 or visit www.orderchews.com.
*These statements have not been reviewed by the Food & Drug Administration.

WAVE Contour Plus
by WAVE Whole-Body Advanced Vibration Exercise
Just because you're too busy to spend hours at a gym doesn't mean you can't slim down, firm up, and get stronger while reducing cellulite and improving bone density and circulation. All you need is 15 minutes, three times a week with WAVE Contour Plus whole-body vibration exercise - at home. Visit us at www.wavexercise.com or call 866-420-7546.
ParFlex Plus®
by Foot Levelers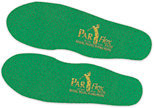 Research proves ParFlex Plus Spinal Pelvic Stabilizers support all three arches of the foot to help improve balance, structural alignment and pelvic rotation, increasing your club-head velocity and reducing your fatigue. Ask your doctor to learn more about the ParFlex Plus® and visit www.footlevelers.com.

*These statements have not been evaluated by the Food & Drug Administration. This product is not intended to diagnose, treat, cure, or prevent any disease.



Page printed from:
http://www.toyourhealth.com/mpacms/tyh/article.php?id=1191&no_paginate=true&no_b=true