A Cause of Hair Loss?
By Editorial Staff
While both men and women can experience hair loss, in women, it's generally more diffuse (thinning hair), while men are much more likely to suffer partial or total baldness (male-pattern hair loss). As a result, many men in particular live life with the constant fear of hair loss – or the constant distress once they start losing their hair.
Men, listen up: losing your hair may be an inevitability, but research suggests this dietary habit may make it more likely – drinking sugar-sweetened beverages (SSB). And it doesn't take much: a mere one soda or sugary drink per day may be too much. Among more than 1,000 men ages 18-45, men who reported drinking up to one sugary drink (any of 15 different beverages including soda, sugar-sweetened juice, energy drinks, sport drinks, sweetened coffee or sweetened tea) per day were 30 percent more likely to report hair loss. Men who drank more than one sweetened beverage daily were even more likely to report hair loss: 42 percent more likely compared to men who never drank sugar-sweetened beverages.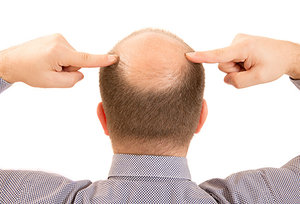 Writing on their findings in the journal Nutrients, researchers note: "Emphasizing that SSB consumption could have a potential negative effect on one's appearance could catch the attention of the young population and promote a reduction in SSB intake." If you can't seem to break the habit of drinking sugar-sweetened beverages, talk to your doctor, who will gladly share with you some of the other possible health consequences, including a higher risk of weight gain / obesity, type 2 diabetes, heart disease and tooth decay.



Page printed from:
http://www.toyourhealth.com/mpacms/tyh/article.php?id=3109&no_paginate=true&no_b=true