To Your Health
May, 2011 (Vol. 05, Issue 05)
Memory / Cognition: Daily supplementation of DHA-rich omega-3 fatty acids also helps to improve memory and learning in older adults with mild cognitive impairments.
DHA is the principle omega-3 fatty acid in the brain, and previous studies have suggested an inverse correlation between higher DHA intake and the relative risk of Alzheimer's disease. Investigators evaluated the effects of DHA on improving cognitive functions in healthy older adults with age-related cognitive decline. The study involved 485 subjects, ages 55 and older, with a subjective memory complaint and who met criteria for age-related cognitive decline. Researchers assigned subjects to receive either 900 mg/day of DHA orally or a placebo for 24 weeks. The team found that subjects who took DHA displayed improved memory and learning skills.
Gum Disease: Cases of gum disease, most notably periodontitis, may be reduced by moderate dietary intakes of DHA and EPA, suggests research. Asghar Naqvi, from Harvard Medical School, and colleagues studied data collected on 9,182 adults, ages 20 years and older, who participated in the National Health and Nutrition Examination Survey between 1999 and 2004. The researchers found that those subjects who consumed the most DHA had a 20 percent reduced risk of developing periodontitis.
Breast Cancer Risk: Researchers at the Fred Hutchinson Cancer Research Center in Washington found that regular use of omega-3 supplements slashes breast cancer risk. Emily White and colleagues surveyed 35,016 postmenopausal women who did not have a history of breast cancer on their use of non-vitamin, non-mineral "specialty" supplements, and tracked the incidence of breast cancer during a six-year follow-up period. The team found that women who regularly used fish oil supplements containing high levels of omega-3 fatty acids had a 32 percent reduced risk of breast cancer, with the risk reduction limited to invasive ductal breast cancer, the most common type of the disease.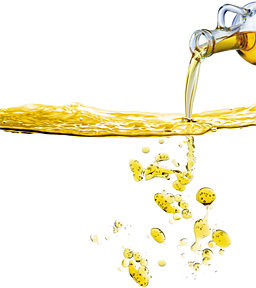 Hearing Loss: Australian researchers have found that eating two servings of fish rich in omega-3 fatty acids weekly helps to reduce the risk of hearing loss. Paul Mitchell, from the University of Sydney, and colleagues analyzed data collected on 2,956 men and women enrolled in the Blue Mountains Hearing Study, surveying the subjects regarding their dietary intake of fish. The team found that two servings of fish weekly reduced hearing loss in subjects ages 50 years and older, compared with people who averaged less than one serving of fish per week.
More Healthy Fat Means Less Fat on You
Being overweight or obese can lead to serious health consequences, and fat is a major culprit. In short, we consume too much fat, and when we do, it's often the saturated variety, the kind that contributes to high cholesterol, heart disease and other major issues. Now don't get us wrong; "healthier" fats, the mono/polyunsaturated fats and fats containing omega-3 fatty acids, are still fats; but evidence suggests that in moderation, they can actually improve our health in many ways, rather than the other way around. Now that's some good news. Talk to your doctor to learn more.
---
Ronald Klatz, MD, is the president of the American Academy of Anti-Aging (www.worldhealth.net), a nonprofit organization dedicated to the prevention, detection and treatment of aging-related disease.

Robert Goldman, MD, is the chairman of the American Academy of Anti-Aging (www.worldhealth.net), a nonprofit organization dedicated to the prevention, detection and treatment of aging-related disease.