Even when they have the best intentions, exercisers often make mistakes that keep them from getting the most out of their workouts, and in some cases, do them harm. Here are a few of the most common mistakes, and how you can avoid them yourself.
Increasing evidence suggests prolonged sitting – even "productive" sitting, as many of us do at work every day – is associated with profound health risks – even death – compared to more active behaviors. The trouble is, evidence also suggests the solution isn't as simple as swapping out time sitting with time exercising. You can exercise for four hours a...
Yo-yo dieting is something that occurs a lot...both in and out of my clinic. I see it in my friends, family members, and my patients. Your body is a machine and you can cause serious damage to your health and metabolism when you are intermittently feeding it good fuel then sometimes bad fuel then sometimes giving it enough food but other times you are...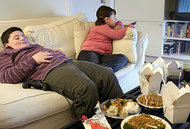 Sept. 1 kicked of the fifth annual National Childhood Obesity Awareness Month, but your role in helping your children – and the children of everyone you know – avoid the perils of obesity should be a year-round responsibility you embrace. After all, what child deserves to suffer the embarrassment, health risks and other negative consequences of...
Do you reach for a tall glass of water after an intense workout? It is always important to rehydrate, but did you know it is also important to eat the right foods to get the most out of your workout?
When it comes to stroke prevention for women, eating foods rich in potassium can help, according to a new study. In the new study, published in the journal Stroke researchers tracked more than 90,000 postmenopausal women aged 50 to 79 for an average of 11 years. The average daily intake of potassium was just over 2,600 mg per day. The lowest potassium...