To Your Health
October, 2008 (Vol. 02, Issue 10)
There also are specialized digestive enzymes that specifically break down the opiate-like peptides from gluten and casein. Although not intended to enable sensitive individuals to continue eating gluten and casein, they are designed to speed up the process of peptide elimination from the body.
A good-quality probiotic supplement, beneficial to the health of the colon, also can improve autistic symptoms. Probiotics are friendly bacteria in the colon that live in balance with us, helping protect against unhealthful invaders such as toxins and allergens.
Overall, there is strong evidence to support the use of a gluten- and casein-free diet in autistic children. Thousands of families have reported mild to dramatic improvements by following a gluten- and casein-free diet, and the benefits are becoming recognized in the medical community.
Gluten- and Casein-Free Eating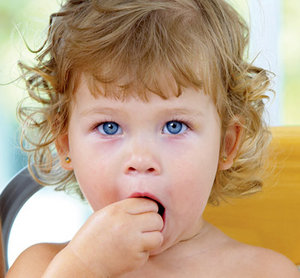 All family members and caregivers must support the decision to follow a gluten- and casein-free diet. Improvements are often slow, so be patient. Allow at least six months to determine if the diet is successful. Improvements are quicker when integrity and permeability of the intestinal tract are addressed. Here are a few resources to help gluten- and casein-free dieters (Your doctor can provide you with more information, including additional resources):
Authentic Foods, www.authenticfoods.com. Manufacturer of bean and specialty flours, baking mixes, cake mixes and coating mixes, xanthan gum and natural flavors. Manufactured in a gluten-free environment.
ENER-G Foods, Inc., www.ener-g.com. Offers breads, donuts, cakes, cookies, English muffins, pizza shells and soups.
Gluten-Free Pantry, www.glutenfree.com. Gourmet gluten-free baking mixes. Bread, bagel, brownie, cookie and piecrust mixes.
Mr. Spice Health Foods, www.mrspice.com. Sauces that are gluten-free.
Special Diets for Special Kids by Lisa Lewis PhD. Gluten and dairy-free cookbook.
---
Diana Fatayerji, MS, PhD,
is a clinical nutritionist who has been in private practice for nearly 10 years. She utilizes enzymes, nutritional supplements and other natural therapies to treat patients with a variety of health conditions, including hormone imbalances, allergies and digestive issues.