To Your Health
December, 2008 (Vol. 02, Issue 12)
Healthy Holidays
Give the gift of health and wellness with these stocking stuffers.
By Editorial Staff
Smart Spinal Pelvic Stabilizers
by Foot Levelers
Smart Stabilizers have the technology to adapt to temperature or moisture changes to keep your feet comfortable and dry - regardless of the conditions. Smart Stabilizers include the ELITE™XS, EXTREME™XS and ULTRA DRY® XS. Talk to your health care professional about SMART Stabilizers and visit www.footlevelers.com for more information.
FORMULA 303®
by Dee Cee Laboratories®
Helps you feel better fast three proven ways - Relaxes Muscle Spasms - Natural Relaxant to Relieve Tension - Scientifically Formulated to Ease Stress. FORMULA 303® is registered in the U.S. Patent and Trademark Office, No. 2,965,955, for use as a natural relaxant for muscle spasms, tension and stress. Ask your doctor.

Superior To Glucosamine™
by Nutra Naturals, Inc.
"Superior to Glucosamine!" is NOT glucosamine. "Superior to Glucosamine" is a breakthrough in pain management formulated with both menthol and esterified oils. It penetrates deeply into sore muscles and joints. Clinically proven with published double-blind trials, STG offers faster and more effective pain relief. Ask your doctor about "Superior to Glucosamine!" or visit www.nutranaturals.com.

Greens First® The Delicious Way To Eat Your Fruits & Veggies!
by Wellness Watchers-Greens First
BAD NEWS: The USDA announced that Americans need to increase their servings of fruits and vegetables to 7-13 servings per day! GOOD NEWS: Now you and your family can easily enjoy the benefits of 10+ servings of organic fruits and vegetables every day in a quick and delicious drink! Ask your doctor for a free sample or call 1-866-410-1818 and/or visit www.greensfirst.com.
Not Just Any Fiber Whole Food Fiber

by Standard Process
Whole Food Fiber powder is a good source of fiber made from six whole foods, all playing a vital role in keeping your intestinal tract and immune system healthy.* Talk with your health care professional or visit www.standardprocess.com for more information.
*These statements have not been evaluated by the Food & Drug Administration. This product is not intended to diagnose, treat, cure, or prevent any disease.
BioSet® Enzyme Supplements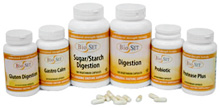 by BioSET®
BioSET® products are full-spectrum vegetarian enzymes that assist the body in general digestion. These enzymes decrease food sensitivities, optimize utilization of all nutrients, support the immune system, promote weight loss, stop food and sugar cravings, increase sexual libido, improve skin radiance and amplify the body's natural energy levels. For questions/orders, contact us at 1-877-BioSET1 and/or visit www.bioset.net.
For more featured products, click here.