To Your Health
May, 2009 (Vol. 03, Issue 05)
Time for Wellness
Time to start working on a healthier you.
ParFlex Plus®
by Foot Levelers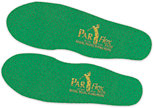 Research proves ParFlex Plus Spinal Pelvic Stabilizers support all three arches of the foot to help improve balance, structural alignment and pelvic rotation, increasing your club-head velocity and reducing your fatigue. Ask your doctor to learn more about the ParFlex Plus® and visit www.footlevelers.com.

formula 303®
by Dee Cee Laboratories, Inc.®
Helps you feel better fast three proven ways - Relaxes Muscle Spasms - Natural Relaxant to Relieve Tension - Scientifically Formulated to Ease Stress. FORMULA 303® is registered in the U.S. Patent and Trademark Office, No. 2,965,955, for use as a natural relaxant for muscle spasms, tension and stress. Ask your doctor.

Clarisonic
by Pacific Bioscience Laboratories, Inc.
Clarisonic® is a device for preparing the skin in-spa and at-home for better results. Clarisonic's non-abrasive sonic oscillation coaxes make-up/ bacteria from deep within pores. It cleanses so well that products absorb better. Developed by the lead inventor of Sonicare.® Recommended by leading dermatologists, cosmetic surgeons and destination spas. Experience us at www.clarisonic.com, or call 1-888-525-2747.

Chewable Dietary Supplement
by Chews4Health
Chews-4-Health is the world's first chewable superfruit, antioxidant, sea vegetable dietary supplement. Benefits include Anti-aging, Longevity, Mental Focus, Immune System Enhancing, More Energy, Stamina, Strengthens, Nourishes, Revitalizes, Enhances Digestion, Skin Rejuvenation, Heart Healthy, Cellular Growth and Development. Call 1-800-211-4123 or visit www.orderchews.com.
Spanish Black Radish Helps Detoxify
by Standard Process

Spanish black radish, grown on our certified organic farm, supports a healthy liver. Related to broccoli and kale, it also assists in the healthy functioning of the digestive tract.* Talk with your health care professional about Spanish Black Radish from Standard Process or visit www.standardprocess.com for more information.
*These statements have not been evaluated by the Food & Drug Administration. This product is not intended to diagnose, treat, cure, or prevent any disease.
GaitScan™
by The Orthotic Group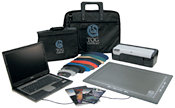 More and more health care practitioners have discovered the multiple benefits of incorporating computerized pressure technology into their clinic. To meet this need TOG developed the GaitScan,™ a technologically superior, pressure analysis assessment tool that improves the clinical evaluation process of patients by providing a clearer picture of foot mechanics. Call 1-800-551-3008 and visit our Web site at www.theorthoticgroup.com.
For more featured products, click here.