To Your Health
February, 2010 (Vol. 04, Issue 02)
Recipe for Wellness
All the right ingredients to start building a healthier you.
Chiroplexan Ointment And Tablets
by Pflueger USA

Chiroplexan Ointment and Tablets provide relief and healing from muscle- and joint-related aches and pain related to back pain, sport injuries, fractures, and repetitive strain injuries. The best results will be realized by using the tablets and ointment together - allowing the products to work internally as well as externally. Buy 6 full-size tubes and receive 25 samples! Call 877-735-8872 or visit www.pfluegerusa.com.
LimuZ NEI


by TBR Labs
LimuZ is the ONLY four-system activator available that will work simultaneously on the four major systems: (N)eurological-Stress reducing and cognitive enhancer, (E)ndocrine-Balance hormones, (I)mmune-Boost both the offensive and defensive immune response (A) ging-Increase energy, feel healthy and look younger. Ask your health practitioner to try LimuZ today or call TBR Labs at 877-827-5221 for more information!
Inversion / Decompression Therapy


by SomaTrac™
Relieve back pain, improve circulation and more, all in the comfort of your home. Decompression/Inversion Therapy is a comfortable, simple, effective way to relieve the negative effects of gravity naturally. Ease muscle tension, improve the flow of blood and lymphatic fluid, unload painful stress on joints, neck, shoulder, and knees. Ask your chiropractor about SomaTrac™ or visit SomaTrac.com.

WAVE Contour Plus
by WAVE Whole-Body Advanced Vibration Exercise
Just because you're too busy to spend hours at a gym doesn't mean you can't slim down, firm up, and get stronger while reducing cellulite and improving bone density and circulation. All you need is 15 minutes, three times a week with WAVE Contour Plus whole-body vibration exercise - at home. Visit us at www.wavexercise.com or call 866-420-7546.
FORMULA 303®


by Dee Cee Laboratories, Inc.®
Helps you feel better fast three proven ways - Relaxes Muscle Spasms - Natural Relaxant to Relieve Tension - Scientifically Formulated to Ease Stress. FORMULA 303® is registered in the U.S. Patent and Trademark Office, No. 2,965,955, for use as a natural relaxant for muscle spasms, tension and stress. Ask your doctor.
Elite Energy™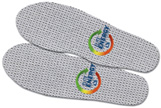 by Foot Levelers
The Elite Energy Spinal Pelvic Stabilizer is the next step in enhancing your energy, edge, and performance. Strategically placed magnets* in specific zones may help to increase energy and lead to better vitality.** This can allow you to enjoy life to its fullest. Visit FootLevelers.com.
For more featured products, click here.