To Your Health
April, 2010 (Vol. 04, Issue 04)
Show Me the Light: The Healing Power of Laser Therapy
By Dr. Phil Harrington
They are in supermarket scanners and compact disc players, and can shoot down satellites. They can measure the distance from the Earth to the moon within a millimeter and repair your vision with just one treatment.
They can cut steel, produce three-dimensional images and transmit telephone messages around the world. What are they?
Lasers.
Theorized by Albert Einstein in 1917 and invented in 1960, lasers have proven to be a versatile high-tech solution to many of life's problems. Today, more and more people are learning that therapeutic doses of laser light can also relieve pain and expedite healing for a wide range of health complaints.
An increasing number of doctors nationwide are offering laser therapy to their patients. With its increasing popularity and use, that means more and more people are probably wondering about lasers in general and some important specifics, including how they work, how safe they are and what it feels like to get treated. To answer these questions and more, we interviewed Dr. Phil Harrington, a chiropractor who also has a degree in physics.
What is laser therapy?
Laser therapy is the application of low levels of laser light to areas of the body that have been injured or damaged. Contrasted with high-powered lasers used in health care that cut tissue, such as surgical or hair-removal lasers, therapy lasers produce beneficial photochemical and photobiological interactions that can help relieve pain and repair injured/damaged tissue.
What is the history of laser therapy?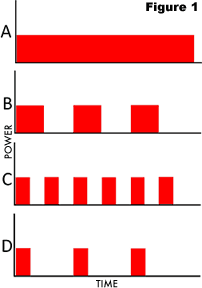 The use of light as a healing modality has been recorded as early as 4,000 years ago in ancient Egypt. Albert Einstein wrote a theory about lasers in 1917, and the laser was invented in 1960. Laser light is special because it is monochromatic (one color), coherent (all waves are in phase with each other), and can be collimated (held to a small spot size at a great distance). Dr. Endre Mester was the first to observe the positive effects of laser when hair grew more quickly on shaved mice that were exposed to low levels of laser light.
How long have lasers been used by health care providers?
Therapy lasers have been used in Europe since Dr. Mester's discovery in 1967. The U.S. Food and Drug Administration (FDA) gave market clearance to the first therapy laser in 2002. Since then, progressive chiropractors, osteopaths, medical doctors and other have been offering laser therapy to their patients in increasing numbers.
How do lasers work?
The photons of laser light penetrate through your skin and are absorbed by special components in your body's cells called chromophores. Just as photosynthesis creates energy for plants, the absorption of the photons by your cells causes increased production of cellular energy. In areas of injury or damage, this means there is more energy available to improve the rate and quality of healing. This is called biostimulation.
Because of its biostimulatory nature, laser therapy has the potential to help any scenario whereby the body's cells are not working to their optimum potential. Studies on tissue cultures reveal a wide range of beneficial physiological effects, including increased levels of endorphins, prostaglandins and other beneficial components; reduced levels of harmful compounds including C-reactive protein and interleukin-1; pain modulation through a variety of mechanisms; and increased rate and quality of tissue healing.