To Your Health
January, 2011 (Vol. 05, Issue 01)
Give Yourself a Wellness Boost
A new year means 365 more days to build a better you.
Care Credit® Payment Plans®
by GE Money Bank

Get chiropractic treatment and improve your health and well-being with CareCredit. Designed specifically for healthcare not covered by insurance, CareCredit lets you move forward with treatment immediately and pay over time with monthly payments that fit your budget. Plus, you can use CareCredit for additional care without having to reapply. To learn more about CareCredit ask your doctor or visit www.carecredit.com.
Elite Energy™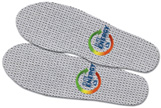 by Foot Levelers
The Elite Energy Spinal Pelvic Stabilizer is the next step in enhancing your energy, edge, and performance. Strategically placed magnets* in specific zones may help to increase energy and lead to better vitality.** This can allow you to enjoy life to its fullest. Visit FootLevelers.com.
Lowback Backrest Support
by ObusForme by HoMedics
The only backrest proven to decrease pressure on your back by 35%! Innovative design enhances comfort by supporting and aligning your spine and adjustable lumbar pad offers additional support where you want it. Ask your doctor about the Lowback Backrest Support (OFLB-BLK) or call (800) 466-3342 and/or visit www.homedics.com.
Moji Tension Release Warming Wrap
by Moji
Moji Tension Release is an innovative all-in-one garment that provides soothing heat to the neck, shoulders and upper back. Its reversible design wraps around the contours of the body to deliver Moji's signature warm hug and allow for generous coverage anytime, anywhere. Buy your Moji now at www.gomoji.com & receive FREE shipping with code HOUSECALL.
For more featured products, click here.