To Your Health
April, 2011 (Vol. 05, Issue 04)
Natural Health in the Spotlight
By Brenda Duran
When Chandra Burnham was a teen, she envisioned herself among the beautiful, intelligent, confident women strutting across the stage in the glamorous pageants she saw on television. When the images of shiny gowns, glamour and glitz would flash on the screen, Burnham was inspired and always in awe.
"I actually can remember thinking, 'Wow they are amazing ... and they have brains to go with it," she recalled.
This past October, Chandra was able to see her dream come to fruition. Flashing a huge smile in a strapless sparkling floor-length gown, Burnham was crowned Miss South Dakota USA 2011 at the Brandon Valley Performing Arts Center in Brandon, S.D. The crown was her golden ticket to compete in the upcoming Miss USA Pageant, scheduled to be held in Las Vegas and air on NBC in June.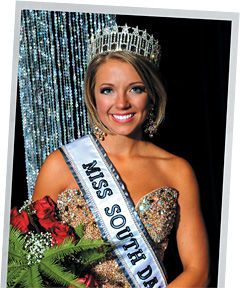 Chandra has always known big dreams required hard work. The Highmore, S.D. native paid her dues by participating in at least eight pageants before her win and mentally prepared herself with unwavering determination – a quality she said ultimately set her apart.
"I walked into that pageant and thought, 'OK, I want this job, I am ready for this job. I have to step it up and show these judges I am the most qualified,'" she said. "It really is a job and it's more than just walking on a stage and smiling and waving; you have to be able to communicate with people and you have to be able to get your message across. I was the most prepared for that this year and luckily the judges saw that."
The victory meant more than a crown and publicity to Chandra. It also meant a window of opportunity had opened for her to achieve some of her other lofty goals in life – including promoting her passion for chiropractic care. At age 23, she is currently studying to be a doctor of chiropractic at Northwestern University of Health Sciences in Bloomington, Minn. It is a career that will certainly make her stand out among her peers and other pageant contestants.
Although females make up half of the students at chiropractic colleges nationwide, fewer of them can be found in today's chiropractic practices. Currently, only about 22 percent of doctors of chiropractic are female, compared to 77 percent male, according to the National Board of Chiropractic Examiners Practice Analysis of Chiropractic 2010.
The statistics clearly show it is a male-dominated profession, but Chandra, who is used to the female-dominated pageants, isn't intimidated. Instead, she said it has moved her to focus on the long-term benefits she will reap after she pursues her career goal.
These days, she is hitting the books with the same determination that got her the reigning crown at her last pageant. "Your reign in pageants is only a year ... but with chiropractic you also get to reach out to a lot of people [for much longer than just a year]. I don't think you can beat that feeling; I think it's going to be even better than winning a pageant," she said.
Following Her Bliss
A stubborn knee problem and a change of course were what steered Chandra toward her chosen professional path. Initially a pre-med student, she had set her sights on a career as a pediatrician. She knew two things for certain – she loved children and she wanted to help those in need. However, the volunteer work she did in pediatric clinics proved to be too much for her emotionally.