To Your Health
December, 2011 (Vol. 05, Issue 12)
Stand Up Straight
By Dr. Jeffrey Tucker
I remember reading a quote in the American Journal of Pain Management that said "To live a long, active, energetic life, few things matter more than good posture." Postural issues are a big contributor to many different aches and pains and injuries to our bodies.
Injuries related to poor posture tend to be overuse injuries, which build up over a period of time. Slouched sitting for extended periods of time at a desk or in front of the TV can cause the shoulder joints to sit in a forwards position. This causes a muscle imbalance where the chest muscles are tight and the upper back muscles are weak. If you suffer with low back pain that developed slow and gradual with no history of trauma or overuse, the problem may be due to poor posture. Slumped sitting usually causes the arch of the back to flex or round and this places extra strain on the muscles and ligaments, which support the lower back. This results in muscle spasms and sometimes muscle strains.
Sitting, staring at a computer screen for hours on end, allowing your shoulders to round and your neck protrudes forward can cause aches and stiffness in the neck-shoulder area and even cause headaches. An accumulation of poor posture day-in and day-out can result in shortening of the chest muscles and weakening of the small, postural upper back and neck muscles, which work to pull the shoulders back. Once the rounded shoulders and forward head posture become a habit, it is hard to break that pattern.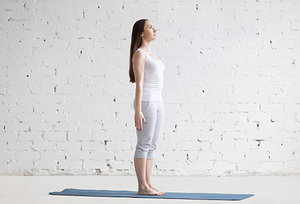 Most people get out of bed in the morning and go sit down at a table and eat breakfast, then get in there car and drive to work. Large chunks of the work day is spent sitting hunched over a computer or in a vehicle driving to appointments. After work people go home and sit at the dinner table and then sit slumped on a couch to watch TV until they go to bed. This excess sitting for long periods during the day and night adversely affects posture, which in turn effects your performance in your activities and is quite often a predisposing factor in injury.
I understand most people need to spend on average eight to 10 hours each day at work. Don't be one of those people who sit unconsciously in improper body positions and engage in repetitive movements that create muscle imbalances leading to poor posture. Poor self esteem, psychological distress & depressive symptoms are all related to poor posture. The most natural thing you can do here is increase your '"get up" and "move around" time. Create a variety of movement in your activities of daily living.
If you have poor flexibility, try some simple yoga. Muscle imbalances and joint dysfunctions associated with poor posture can create areas of too much motion in certain spinal segments causing instability. These areas may then wear out prematurely, while other areas may have too little motion in the spine causing range of motion/mobility dysfunctions; anytime you have a right side - left side imbalance, we call that an asymmetry. If you have an asymmetry in your muscles, you are more susceptible to injury.
Improve your posture by using these techniques:
Become aware of the things that you are doing, even the things that you don't even know you are doing that are contributing (harming) to your posture.
Think of staying in a "tall spine" posture (while sitting, standing, during exercise).
Take frequent breaks from sitting and use the Brugger's postural relief position as one of your style of breaks.
Know what it feels like to be in proper posture alignment and frequently try to duplicate that feeling - sometimes clients don't even know what good posture feels like and looks like.
Taking frequent breaks from sitting at your desk is one of the most important things you can do for prevention of poor posture. Become aware of the times that you are doing repetitive movements and/or sustained postures, i.e., the mattress you sleep on may be worn out and contribute to microtrauma to the tissues causing altered spinal curves. The position you sleep in is important - the least offensive sleep position is on your back, then side lying with a pillow between the knees, and the least desirable position is on the stomach. A pillow with a good cervical support is important - a pillow without any cervical support may contribute to altered neck curves. The chair at your work station should allow you to sit upright rather than in a slumped posture.