To Your Health
July, 2017 (Vol. 11, Issue 07)
Can a Concussion Affect Your Menstrual Cycle?
By Editorial Staff
The concussion conversation is loud right now, to say the least. With increasing reports of concussion-related health issues in athletes, to higher reporting rates and substantially more research on the topic than in years past, we're learning how concussions can impact our health (in both the short and long term) more and more every day.
Concussions
can cause symptoms including memory loss, headaches, dizziness / balance issues, and more, lasting from a few minutes to a several months. And in the long term, growing evidence suggests concussions may be connected to cognitive decline.
But here's a concussion-related symptom you probably didn't consider: menstrual problems in young women. In a recent study, researchers found adolescents / young women (ages 12-21) were six times more likely to suffer irregular menstrual cycles after suffering a concussion. Approximately one in four patients who'd suffered a concussion experienced two or more abnormal menstrual cycles following the concussion compared to only one in 20 patients who suffered a non-concussion head injury.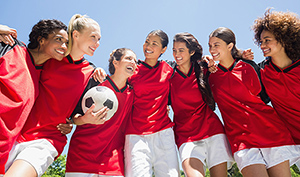 Researchers involved in the study aren't sure why young women who suffer a concussion are more likely to experience menstrual irregularities, but they do know such irregularities can disrupt hormones and potentially cause delayed body development and bone loss. Just another reason to take concussions seriously and ensure prevention is priority No. 1.