To Your Health
April, 2007 (Vol. 01, Issue 04)
Secrets to Staying Healthy
By Editorial Staff
Sometimes, knowledge comes from experience; sometimes, it comes from listening to someone who's experienced it firsthand. Learn the secrets to staying healthy in this interview with Sarah Harding-Traverso, two-time Ms. Fitness USA and a true advocate of natural health and wellness.
You were Ms. Fitness USA in 2004 and 2006. Tell us about the contest. Ms. Fitness has three judged rounds: spokesmodel, physique and routine; they resemble a traditional beauty pageant's respective three rounds: evening gown, swimsuit and talent. What makes the Ms. Fitness contest unique, and especially pertinent to today's modern woman, is its focus on women's health. Each round celebrates a contestant's decision to prioritize her health, get in shape and nurture a positive self-image.
Fox Sports Net televises the routine round, which consists of a 90-second dance and gymnastics performance. Contestants demonstrate their physical strength, flexibility and endurance. In the physique round, contestants wear a bikini to show their muscle tone. Ms. Fitness strives to encourage a healthy body image and requires women to maintain reasonable levels of body fat. Unlike bodybuilding, there is no flexing. During the spokesmodel round, women wear elegant gowns and give speeches on their philosophy of fitness. This round allows the judges to hear why each contestant values health and prioritizes fitness.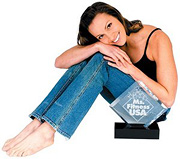 Photo taken by Jo Ann McKee. Given the many years that you've competed in gymnastics and fitness, has an injury ever potentially prevented you from continuing your career? Yes. In 1996, my freshman year at Stanford, I suffered from a stress fracture in my lower back. I couldn't walk without pain. I couldn't even sleep through the night. At the time, I was on a full-ride athletic scholarship. I didn't know if I could continue my gymnastics career.
I never would have thought that 10 years later, I'd not only be pain-free, I'd also be a professional acrobat performing two shows a night, 10 shows a week, 480 shows a year! Through that difficult injury, I learned how important it is to go to a chiropractor and have regular maintenance on your spine, like you do your eyes and teeth.
Our bodies have to last us the rest of our lives. The best medicine is preventative. Thanks to chiropractic, I was able to increase circulation, strengthen my core and align my entire body. Sure, I get my fair share of bumps and bruises as a professional acrobat. However, now I have the tools to take care of myself and enjoy the career that I love.
Tell us a bit about your physical training and how you prepared for the fitness contest. Regular visits to the chiropractor are part of my physical training - just like proper nutrition and adequate rest. It's important to keep my body physically in balance while I recover and refuel after an intense workout. And let me tell you, these fitness contest trainings were hard!