To Your Health
May, 2007 (Vol. 01, Issue 05)
LUFFA
Chinese Name:
Si Gua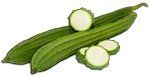 This common Chinese vegetable rejuvenates the skin and is used by the Chinese for facial discoloration and wrinkle conditions. It also is commonly processed for use as a bath sponge, to exfoliate and polish the skin.
To find and prepare luffa: You easily can grow these zucchini-like vegetables yourself if you have the space. You also should be able to find them at Chinese markets. Prepare them as you would any squash. It also makes an excellent topical mask for dealing with wrinkles, dark spots and uneven facial discoloration. The best way to collect the juice is to cut the vein and let the liquid drip into a jar, and then apply it topically to the face while fresh.
Food therapy, as effective as the other traditional Chinese medicine techniques in a facial rejuvenation program, is a powerful tool for smoothing wrinkles and diminishing those dark eye circles, bags and facial discolorations.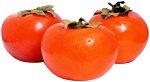 PERSIMMON
Chinese Name: Shi Zi
Persimmon has been known for centuries to cool the body, nourish the lungs and moisten the skin - all actions that improve facial complexion.
To find and prepare persimmon: You may find two different kinds of persimmons. The Chinese version is sometimes called kaki. Both the Chinese and the American persimmons are great for complexion. Eat them raw as fruit, but make sure they're very ripe. Dried persimmons are a special treat that can be found in Chinese markets. Another way to use persimmon to brighten the complexion is by applying the fresh peel to the face.
GINKGO NUT
Chinese Name: Bai Gou

The health benefits of ginkgo leaf extract have been widely recognized in the West. Much modern research indicates that the antioxidant plant chemicals in ginkgo benefit blood flow and might even slow memory loss. Not many are aware that in Chinese medicine, the nut of the ginkgo tree is more often used medicinally. Ginkgo nut is used herbally, but the whole nuts themselves, often roasted, are a traditional Chinese food that nourishes lung energy and calms wheezing. The best way to use ginkgo to clear the complexion is topical application.
To find and prepare ginkgo nut: It is available in Chinese markets. Crush the fresh nuts into a paste and apply directly to the face.
WINTER MELON
Chinese Name: Dong Gua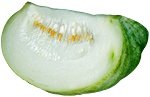 This gourd vegetable and its seeds are very popular in China, especially as a soup. It benefits the heart, detoxifies the body and beautifies the skin. Whether eaten as a food or taken in herb form, winter melon can improve a variety of complexion problems.
To find and prepare winter melon: You can find it in Asian markets or even in Western-style organic food stores. It's also called wax gourd or white gourd. Eat it as you would any melon, peeling off the outer skin. Remove the seeds and pulp, cut it into small pieces, and put in soup or sauté with garlic. For topical skin beauty use, take a small piece, including the juice, and apply the liquid directly to your face as a skin brightener.
---
Ping Zhang, DOM, is the author of A Comprehensive Handbook for Traditional Chinese Medicine Facial Rejuvenation and Anti-Aging Therapy. She has been interviewed by numerous media outlets and publications, and currently hosts a Web radio program, "Traditional Chinese Medicine With Dr. Ping."