To Your Health
May, 2009 (Vol. 03, Issue 05)
Lateral band walking:
With elastic tubing around both ankles, stand with toes straight ahead, knees over feet and hands on hips. Draw abdomen in and step to right while maintaining upright posture. Don't rock your upper body when stepping. Step again with the right foot, bringing your feet back to shoulder-width distance.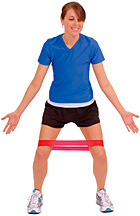 Repeat for six steps to the right and then six steps to the left. This exercise strengthens the glutes, core, and abductors and adductors (the muscles of the outer and inner thigh, respectively).
Perform sets of six steps to each side until you feel a slight burn in the gluteal muscle
.
Ball back extension: Training the important posture muscles of the thoracic (middle) and lumbar (lower) portions of the spine also can be done on the ball. Position yourself with your chest on the ball and hook your feet under a leg anchor, or put them up against the bottom of a wall. Hold your arms straight out in front of you. Your body should form a straight line from your hands to your hips. Raise your upper body until it's slightly above parallel to the floor. At this point, you should have a slight arch in your back and your shoulder blades should be pulled together. Pause for a second and then repeat. You can perform this exercise with the arms in a 10 o'clock and 2 o'clock position or a 3 o'clock and 9 o'clock pose. Perform one set of 12-15 reps.
Stability ball push-ups: If you want to build big arms, especially the triceps, stability ball push-ups will take you to next level. Do a push-up with your feet on a stability ball. Keep your body straight - don't let your hips sag or stick your butt up in the air. Switching positions and having your feet on the floor and hands on the ball challenges the core further. The instability of the ball increases the level of trunk muscle activation. Do as many as you can with strict form, until you feel fatigue; at least 10-15 repetitions.
Band lunge press: If you want more intensity, working with the bands performing pull and push moves is ideal. The band lunge-press helps develop strength, endurance, balance and coordination; there's not much this exercise doesn't hit. With a band securely in place behind you, grip the handles and hold them at shoulder level, palms facing toward each other and elbows bent. Feet should be shoulder-width apart. As you step forward into a lunge position, press the handles forward and finish the press with outstretched arms. Return to the starting position. Form is key: Make sure your front knee is aligned over the heel in the lunge position and concentrate on keeping your upper body erect, chin up, eyes staring forward throughout, as if you were trying to balance a book on your head. Do 10-15 lunges with each leg.