To Your Health
August, 2009 (Vol. 03, Issue 08)
Wanted: An End to Back Pain
4 Ways to Prevent an All-Too-Common Condition
By Kevin Wong, DC
When was the last time you or someone you know suffered an episode of back pain? Chances are it wasn't that long ago. It might have forced you to miss work, take painkillers, anti-inflammatories or other medication, or just deal with the pain longer than you wanted to. Wouldn't it be wonderful to do some simple things to try and prevent back pain from happening in the first place? Here are a few easy ones to get you started.
In the new millennium, the health care pendulum has swung from treating symptoms toward prevention. It is a way of thinking that is analogous to going to the dentist for your six-month check-up or taking your car in for regularly scheduled maintenance - you avoid problems before they start, rather than waiting for something to happen and then "dealing with it." By that time, your car may be in the junk yard and you may be relegated to long-term medication or even surgery.
Back pain is the perfect example of a symptom too many people treat instead of preventing, and the consequences are staggering. It is the most frequent cause of activity limitation in people younger than 45 years old. Approximately one quarter of U.S. adults reported having low back pain lasting at least one whole day in the past three months and 7.6 percent reported at least one episode of severe acute low back pain within a one-year period. Low back pain is also very costly: Approximately 5 percent of people with back pain disability account for 75 percent of the costs associated with low back pain. Americans spend at least $50 billion per year on back pain - and that's just what gets reported.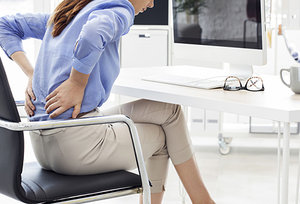 With all that said, how are you going to prevent back pain? Here are four things you can start doing today to reduce your risk of suffering back pain and its costly (physically, emotionally and financially) consequences:
1. Get Adjusted by Your Chiropractor
Your muscles, bones and ligaments are stressed continuously by normal daily activities: driving, sitting at the computer, lifting your kids, doing exercise and countless other things. These little stresses add up over time and misalign the joints of your spine, arms and legs. The misalignments can then lead to muscle tightness, spasms, joint stiffness and pain. Although chiropractors commonly see patients who are in pain, getting spinal tune-ups when you are feeling "fine" will keep you feeling fine. Adjustments will put the bones and joints into healthier positions, which will also help muscle tone.
Generally, if you get adjusted while you're in pain, it will take longer to heal, whereas if you get regular or maintenance adjustments, you can avoid terrible episodes of pain before they even start. That's because keeping the spinal and extremity joints in good alignment will help your nervous system and immune systems function at their best. Even when you think you are feeling good, chiropractors can make sure you stay that way.