To Your Health
September, 2010 (Vol. 04, Issue 09)
Zhang, et al. (also in 2007) showed that supplementation with 60 mg of icariin could increase bone density in postmenopausal women. After two years of supplementation, bone mineral density at the hip (femoral neck) and lower spine (lumbar) increased by 1.6 percent and 1.3 percent, respectively, in the icariin group, and decreased by 1.8 and 2.4 percent, respectively, in the placebo group.
Don't risk suffering the devastating consequences of an osteoporotic fracture. With your doctor's guidance, osteoporosis is preventable in almost every case. Be sure to discuss this issue with them before it's too late!
By following a simple two-step supplementation protocol, as outlined above, you can help prevent the devastating and sometimes life-threatening consequences of osteoporosis - a major health problem in modern society. It is also important to follow good dietary practices and do weight-bearing exercise to complete the lifestyle management protocol for osteoporosis prevention and management. As well, regular chiropractic treatments help to keep you more functional and maintain pain-free movement patterns. This allows you to participate in physical activity at the level required for optimal osteoporosis protection. Your doctor can provide you with additional information regarding the health consequences of poor bone health and simple steps you can take to reduce your risk of developing osteopororis.
---
Supplemental Bone Health: Two Simple Steps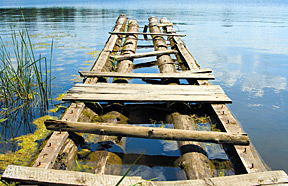 To reduce your risk of developing osteoporosis (and lessen its severity if it does develop at some point in your life), you should take a high-potency multivitamin/mineral and a well-designed bone support formula beginning at age 16 to be sure you are getting the bone nutrients required for prevention and reversal of osteoporosis. Don't worry if you're not 16 anymore; starting today is better than not starting at all.
1. High-Potency Multivitamin/Mineral
Vitamin A (palmitate): 2,500 IU
Beta carotene: 10,000 IU
Vitamin D (cholecalciferol): 400 IU
Vitamin E (d-alpha tocopherol succinate): 400 IU
Vitamin C (ascorbic acid): 1,000 mg
Vitamin B1 (thiamine mononitrate): 50 mg
Vitamin B2 (riboflavin): 50 mg
Niacin (niacinimide): 50 mg
Vitamin B6 (pyridoxine hydrochloride): 50 mg
Vitamin B12 (cyanocobalamin): 50 mcg
Folic acid: 400 mcg
Biotin - 300 mcg
D-pantothenic acid (calcium d-pantothenate): 50 mg
Calcium (carbonate & citrate): 500 mg
Iron (ferrous fumarate): 6 mg
Magnesium (magnesium oxide): 200 mg
Zinc (citrate): 15 mg
Copper (gluconate): 2 mg
Chromium (hvp chelate): 50 mcg
Manganese (gluconate): 5 mg
Selenium (hvp chelate): 100 mcg
Molybdenum (citrate): 50 mcg
Bioflavonoids (citrus complex): 50 mg
Lycopene (5%): 6 mg
Lutein (5%): 6 mg
2. Bone Support Formula
Vitamin D3 (cholecalciferol): 800 IU
Calcium (as calcium carbonate and citrate): 600 mg
Magnesium (as magnesium chelate): 300 mg
Icariin flavonoid (from 200 mg of Epimedium): 60 mg
Betaine hydrochloride: 10 mg
Bamboo extract (Bambusa vulgaris, leaf and stem, 70% silicone): 4.4 mg
---
James Meschino, DC, MS, practices in Toronto, Ontario, Canada and is the author of four nutrition books, including The Meschino Optimal Living Program and Break the Weight Loss Barrier.