To Your Health
February, 2011 (Vol. 05, Issue 02)
3 Keys to Eating Right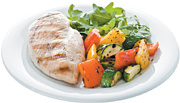 More IS MORE
This is a major eye opener for anyone trying to lose weight or eat healthier: In general, more is more. That means eating more frequently: six or seven small, healthy meals and snacks per day, which balances blood sugar, boosts metabolism and delivers continual nutrition to your cells. Load up on small amounts of nutrient-dense food throughout the day and you'll look better, feel better and live better.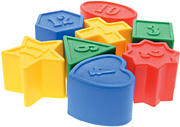 Think Variety
Eating healthier means progressively infusing more nutritious foods into your existing diet; it doesn't mean eliminating your favorites forever. That tactic will lead to one result and one result only: an eventual "return" to your unhealthy ways. Instead, develop a meal plan that emphasizes variety - both healthier choices and less-healthy favorites. You'll be more likely to stick with it for the long haul.

True Colors
There's no debating the value of color in your diet, but we don't mean the artificial kind. Cut the FD&C Blue No. 1, Green No. 3 and Yellow No. 5 from your diet and see how many unhealthy foods go by the wayside (many cereals, most colored frostings, etc.). Replace those colors with the natural kind; namely fruits and vegetables, which deliver abundant nutrients your body needs.