To Your Health
March, 2011 (Vol. 05, Issue 03)
You Can't Be Too Safe
Must-Knows About Car Seat Safety
By Dr. Claudia Anrig
Any parent with a newborn to first or second grader knows that car seats are a part of family life. However, many parents may think that if they use the child restraint system that is required by law that their children are safe.
But how safe is it? Are they using the proper car seat for their child and is it correctly installed? And what about other factors such as vehicle type, seat location (front or back), etc.? Let's learn about car seat safety so you can keep your children as safe as possible anytime you hit the open road.
NHTSA Recommendations
The National Highway Traffic Safety Administration (NHTSA) recommends the following guidelines be followed when deciding how your child should be restrained for their safety whenever riding in a motor vehicle. Keep in mind that these are the minimum guidelines, and that it's also important to consider the guidelines for the particular car seat you purchase that will dictate the type of restraint your child requires:
Infants (birth to at least 1 year of age or weighing at least 20 pounds) are required to be restrained in a rear-facing convertible seat.
Toddlers (over 1 year of age and weighing 20-40 pounds) need a forward-facing convertible seat.
Young children (ages 4-8 years, unless at least 4' 8" tall and weighing more than 40 pounds) need a seat belt-positioning booster seat in a forward-facing seat position.
The child can sit without a booster seat (shoulder/lap belt only) when the lap belt lays across the upper thighs and the shoulder belt fits across the chest (usually at around age 8 or when they are at least 4'9" tall).
Children ages 12 and younger should ride in the backseat at all times.
Additional Safety Features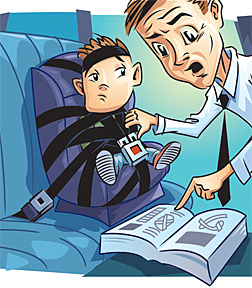 The pursuit of the perfect car seat has created a variety of systems, checks and balances in the hope of making our children's safety a little more secure. LATCH, an acronym for the "Lower Anchors and Tethers for Children" system is one of the latest attempts to decrease the risk of an injury during a crash and help minimize problems related to improperly installed car seats.
As of September 2000, all new automobiles (except convertibles) are required to have a special attachment that secures the tether strap found on most new child restraint systems. The purpose of the adjustable straps is to secure the seat to the rear window shelf, floor or back of the vehicle seat. The strap will keep the top of the car seat from moving too far forward, reducing the possibility of head injuries during crashes. In September 2002, a second feature was required: a lower attachment bar with a matching feature on a car seat (buckle, hook or connector) that snaps onto the lower anchor bar of the vehicle. Unfortunately, too many parents don't know how to install their child's car seat utilizing the LATCH system, or don't both to do so.