To Your Health
April, 2011 (Vol. 05, Issue 04)
Clear Skies Ahead
Products to ensure nothing rains on your health this spring.
Homeopathic ChiroHCG
by ChiroHCG LLC
ChiroHCG Doctor Supervised Weight Loss. Lose 20-35 pounds in about a month! No Shakes, No Pre-Packaged Food, No Exercise. Blended with 100% US derived raw materials. Ask your doctor if it's right for you. Call 877-377-7636 or visit www.chirohcg.com.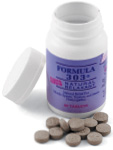 FORMULA 303®
by Dee Cee Laboratories, Inc.®
Helps you feel better fast three proven ways - Relaxes Muscle Spasms - Natural Relaxant to Relieve Tension - Scientifically Formulated to Ease Stress. FORMULA 303® is registered in the U.S. Patent and Trademark Office, No. 2,965,955, for use as a natural relaxant for muscle spasms, tension and stress. Ask your doctor.
For more featured products, click here.