To Your Health
April, 2011 (Vol. 05, Issue 04)
Seat belt: Although the seat belt in and of itself will not prevent whiplash, it does help to prevent your body from lurching completely forward during a car crash, even a low-impact crash. The simple act of buckling up is responsible for approximately a 60 percent reduction in accident fatalities. So buckle up to save your life and protect your neck.
Neck exercises:
Whiplash affects the neck muscles. The stronger the muscles, the less affected by sudden movement your neck will be. Engage in
neck exercises
to strengthen the soft tissues of the neck. Exercise won't prevent whiplash, but it can make you less susceptible to the forcible forward and backward neck jolts. Isometric resistance exercises for the neck are easy to do and highly effective in strengthening the supportive musculature of the neck. Your doctor can provide you with specific neck-strengthening exercises.
Treatment Options
Whiplash injuries are difficult to treat for many reasons. Complex interactions of psychosocial, legal and physical factors make effective treatment highly variable. However, there are many therapeutic options available to help whiplash related injuries. Initial treatment traditionally includes a soft cervical collar to restrict cervical range of motion and prevent further injury. Overall rest and motion restriction may hinder progress in the long run, so it is best to seek out professional help in resolving symptoms. That's where your chiropractor comes in.
Chiropractic: Chiropractors are the single largest group of practitioners treating whiplash injuries, and they do it well: For example, one study found chiropractors were effective at relieving whiplash pain more than 90 percent of the time. Chiropractic care focuses on relieving soft- tissue spasm, inflammation and pain by restoring proper motion in the spinal column. Due to the force impact of whiplash, the spinal column can misalign and cause pain. By performing manipulation to the spinal column, chiropractic can help restore normal function and movement to the affected areas.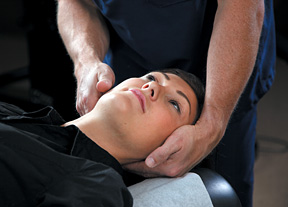 Depending on their treatment style and your specific case, your chiropractor may decide to utilize additional treatment options in addition to chiropractic, either in their office or via a referral. Here are some of those potential treatments, all with the single goal of relieving your pain and managing your whiplash symptoms in the most effective way possible – and without requiring pain-relief medications, which are perhaps the most common "treatment" option for whiplash sufferers, despite the fact that they provide only short-term relief and may create more problems than solutions in terms of the potential side effects.
Acupuncture: An ancient system of healing developed over thousands of years in Eastern countries such as China, acupuncture is a treatment in which fine needles are applied to specific acupuncture points in order to relieve symptoms of both physical and psychological conditions. Acupuncture has proved to be a particularly effective in relieving the neck pain and other symptoms associated with whiplash injuries. In some cases, acupuncture has helped in the treatment of whiplash patients suffering long-term symptoms where conventional approaches showed little improvement.
Massage Therapy: Massage is one of the most effective therapies for releasing muscle tension and restoring balance to the musculoskeletal system. Massage therapy can help relax the muscles, increase and maintain range of motion, decrease stress and tension, increase circulation, and prevent and break down scar-tissue formation. Ideally, therapy should start as soon as the acute, inflammatory phase is over (about 72 hours after the injury). A massage technique called cross-fiber friction can be used to encourage the body to lay down the connective tissue in the same direction as the originally damaged tissue. This proper alignment causes smaller amounts of the connective tissue to be needed and allows for a fuller range of motion upon recovery.