To Your Health
June, 2011 (Vol. 05, Issue 06)
Summer Delights
By Carey Emmons, RD, LDN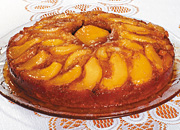 APPLE UPSIDE-DOWN CAKE
Prep time: about 20 minutes
Total cook time: 35-45 minutes
Makes about 9 servings
Ingredients
3 tbsp. all natural lower calorie butter
1/2 cup lightly packed brown sugar
3 apples, cored, peeled and sliced
Cake:
1/3 cup low fat butter
1/2 cup agave
1/4 cup egg substitute
1 1/2 tsp. vanilla
1 3/4 cups whole wheat flour
3 tsp. baking powder
1/2 tsp. salt
3/4 cup skim milk
In an 8-inch square baking pan, melt 3 tablespoons of low-fat butter. Sprinkle the melted butter with brown sugar. Top the brown sugar with apples (or other fruit, see below).
Directions
Beat 1/3 cup room temperature low-fat butter with 3/4 cup sugar substitute. Add egg substitute, beat until light. Stir together the whole wheat flour, baking powder and salt. Stir 1/3 flour mixture into egg mixture and beat for 10 seconds. Add vanilla to skim milk and stir half of the skim-milk mixture into the flour/egg mixture, continue adding flour, then milk alternately until all ingredients for cake batter are mixed. Pour batter over the sugar and fruit in the pan.
Bake in a preheated 325°F oven for 30-40 minutes – or until slightly brown.
Invert cake at once onto a serving dish. Serve warm with non-fat frozen vanilla yogurt or non-fat whipped cream.
Health Benefits: Most low-fat butters have about 28 percent less saturated fat then regular butter, and using egg substitute (in place of regular eggs) saves about 6 grams of fat. Also, using whole wheat flour increases the fiber content in the recipe.
---
BANANA NUT BREAD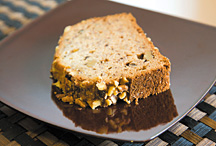 Total Time: 1 hour 30 minutes
Prep time: 15 minutes
Servings: 12 servings (1 slice each)
Ingredients
Cooking spray
1-3/4 cups whole wheat flour
1 teaspoon baking soda
1/2 teaspoon ground cinnamon
1/2 teaspoon salt
1/2 cup honey
1/4 cup olive oil
1/2 cup egg substitute
3 medium very ripe bananas, mashed
1 teaspoon vanilla extract
1/4 cup chopped pecans