To Your Health
August, 2014 (Vol. 08, Issue 08)
I'd Like to Order Some Extra Calories...
By Editorial Staff
Make no bones about it: Eating out generally equates with poorer eating habits compared to eating at home, despite "advances" in the past few years in terms of healthier menu options. Case in point: a recent study that suggests people who eat at fast-food or sit-down (full-service) restaurants consume approximately 200 additional calories each day they do so.
The study, published in Public Health Nutrition, asked more than 12,000 adults ages 20-64 about their eating habits on two separate days as part of the latest National Health and Nutrition Examination Survey. People who ate fast food consumed 194 extra calories a day compared to people who did not eat out; while people who ate at full-service restaurants consumed an additional 205 calories daily. Eating out also led to higher intake of saturated fat and particularly sodium compared to not eating out.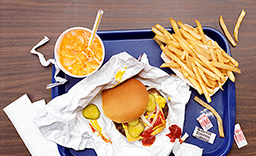 While fast food is certainly a convenience, and the sit-down restaurant is a time-honored tradition for many families, extra calories and other negative nutritional consequences may be the result. The bottom line: Treat eating out as just that – an occasional treat – and ensure the majority of your meals are prepared at home using fresh, whole foods. Talk to your doctor for more information.