To Your Health
July, 2020 (Vol. 14, Issue 07)
Cancer Loves When You Sit Around
By Editorial Staff
Unfortunately, the world is collectively spending more time sitting around these days, and as you might expect, COVID-19 is the culprit. When gyms, parks, athletic facilities close; when all but essential workers stay at home all day; and when constant media reports keep us glued to our proverbial seats (in modern terms, our cellphones, computers, etc.) – that all adds up to a lot of sitting and not a lot of moving.
That's the bad news. The even worse news is that the dreaded C word – cancer – absolutely loves when we sit around. If you need proof, look no further than a new study in JAMA Oncology in which researchers examined the relationship between sedentary behavior and cancer mortality.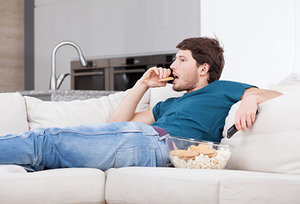 Each study participant wore hip accelerometer for seven straight days that measured daily physical activity patterns, including light-intensity and moderate-to-vigorous activity, and sedentary time (no activity). Just over 8,000 adults, ages 45 years and older, participated in the study, which found a clear association between sedentary time and risk of dying from cancer (more sedentary time = higher risk; less time = lower risk).
The authors' conclusion is all you need to get up from that chair, get off of that couch and start moving: "These findings suggest that the total volume of sedentary behavior is a potential cancer mortality risk factor and support the public health message that adults should sit less and move more to promote longevity."