To Your Health
April, 2009 (Vol. 03, Issue 04)
Spring Into Health
Products to help put some extra bounce in your step.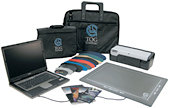 GaitScan™
by The Orthotic Group
More and more health care practitioners have discovered the multiple benefits of incorporating computerized pressure technology into their clinic. To meet this need TOG developed the GaitScan.™ A technologically superior pressure-analysis assessment tool that improves the clinical evaluation process of patients by providing a clearer picture of foot mechanics. Call 1-800-551-3008 and visit our Web site at www.theorthoticgroup.com.

Formula 303®
by Dee Cee Laboratories, Inc.®
Helps you feel better fast three proven ways - Relaxes Muscle Spasms - Natural Relaxant to Relieve Tension - Scientifically Formulated to Ease Stress. FORMULA 303® is registered in the U.S. Patent and Trademark Office, No. 2,965,955, for use as a natural relaxant for muscle spasms, tension and stress. Ask your doctor.

WAVE Contour Plus
by WAVE Whole-Body Advanced Vibration Exercise
Just because you're too busy to spend hours at a gym doesn't mean you can't slim down, firm up, and get stronger while reducing cellulite and improving bone density and circulation. All you need is 15 minutes, three times a week with WAVE Contour Plus whole-body vibration exercise - at home. Visit us at www.wavexercise.com or call 866-420-7546.

Chewable Dietary Supplement
by Chews4Health
Chews-4-Health is the world's first chewable superfruit, antioxidant, sea vegetable dietary supplement. Benefits are Anti-aging, Longevity, Mental Focus, Immune System Enhancing, More Energy, Stamina, Strengthens, Nourishes, Revitalizes, Enhances Digestion, Skin Rejuvenation, Heart Healthy, Cellular Growth and Development. Call 1-800-211-4123 or visit www.orderchews.com to learn more.
Not just any fiber-Whole Food Fiber
by Standard Process
Whole Food Fiber powder is a good source of fiber made from six whole foods, all playing a vital role in keeping your intestinal tract and immune system healthy.* Talk with your health care professional or visit www.standardprocess.com for more information.
*These statements have not been evaluated by the Food & Drug Administration. This product is not intended to diagnose, treat, cure, or prevent any disease.

Exclusively Yours® Custom-Made Pillow
by Foot Levelers
People spend nearly one-third of their lives sleeping, so supportive pillows play a vital role in their care. Make sure you have the comfort and postural alignment your body needs with a custom-made pillow from Foot Levelers called Exclusively Yours.® Ask your doctor about the Exclusively Yours® Custom-Made Pillow today and visit www.footlevelers.com.
For more featured products, click here.