To Your Health
March, 2011 (Vol. 05, Issue 03)
Dr. Greenstein's clients have been so pleased with the results of their care they recently assumed the role of being the latest ambassadors for chiropractic care by teaming up with the Foundation for Chiropractic Progress to promote chiropractic and the benefits of a healthy lifestyle.
Amanda Mitchell, who has been in the sport since high school and a professional for the last two seasons on the Redskins cheer squad, credits chiropractic care for making it possible for her to perform through a 16-game season. In fact, without it, she says, she wouldn't have made it through her first season.
"This is a sport, we're athletes, and cheerleading can take a very heavy toll on your body," she said in a recent interview. "Without chiropractic it would not have been possible to stay in this."
Mitchell said her flexibility and pain from subtle injuries have dramatically been reduced through chiropractic care. "People don't view it as a competitive sport, but you have to try out every single year in this industry and its extremely cutthroat," she said.
Denise Medina, a first-year member of the Redskins cheer squad, said that while the team devotes more time to dance routines than a high school or college team, "cheerleading will just tear your body up if your aren't well-prepared."
Diet and Stretching Matter, Too
Both Medina and Mitchell have also learned a lot of useful tips to avoid injuries. Medina said that regular exercise outside of practice and good eating habits are at least as important as warm-ups and cool-downs at practice and events. And Mitchell pointed out that while parents may not be able to control what happens at practice or a game, they can take control in the kitchen.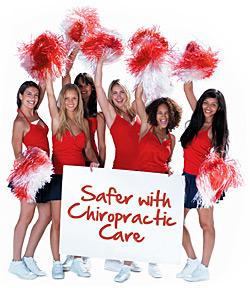 "It all begins with a healthy diet," said Mitchell. "I believe staying in shape is 80 percent diet, 10 percent genetic and 10 percent workout." She believes part of the reason why she has avoided serious injury is because she's learned to eat the right foods at the right time of day. Training, proper warm-up and cool down, as well as practice are important too, of course, but she strongly believes that it's her diet that has been the ultimate factor.
"It's a cliche, but you really are what you eat," she said. "Parents who have kids in cheerleading have to understand that poor eating habits are poor preparation and poor preparation greatly increases the risks of injury."
On a typical day, Mitchell said she has five small meals of between 200 and 300 calories each. Breakfast often includes oatmeal and egg whites. Her morning snack is a protein shake or protein bar. Lunch is a spinach or broccoli salad, often mixed with chicken. Afternoon snack is again a shake or protein bar, usually with some almonds for "finger food." Fish is her favorite for dinner.