To Your Health
March, 2011 (Vol. 05, Issue 03)
"Parents have control over three of those meals, and they can help their kids get through the day by adding in healthy snacks," she said. "If they don't do that the kids will grab for whatever is available in the vending machine."
Mitchell said that at practice and before a performance,
stretching is also critical
. "If you don't warm up, all the jolts and tumbles are much more likely to cause an injury," she said. "I can't stress enough how important stretching is, because this sport can tear your body up."
Dr. Greenstein also recommends cheerleaders also do dynamic warm-ups - a warm up activity that includes upper body and lower body movements to warm up the muscles and dynamic stretches for better flexibility two hours prior to an event. He also recommends if a cheerleader is getting their technique wrong, its best to adjust it to prevent any other injuries.
If a cheerleader does end up getting hurt, he said, with chiropractic care there are always plenty of solutions. "The goal is to decrease pain that can be done naturally through chiropractic care and also improving overall function, which also is a huge component of what chiropractors do," he said.
---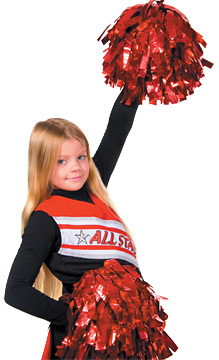 10 Tips for Cheerleader Safety
Make sure your athlete's team has rehearsed their catastrophic emergency plan before going out on the field.



Obtain a pre-participation physical for your athlete to ensure they are healthy and prepared.



Look for a mature, qualified coach that knows proper technique, progressions and spotting.



Find a safe environment to practice and learn.



Have automatic external defibrillators available at all time in case of an emergency.



Report injuries to www.cheerinjuryreport.com for research purposes.



Make sure you are aware of head injuries and the signs of concussion.



Keep your athlete hydrated and make sure they know how they prevent heat illness.



Only allow your athlete to return to play after injury when released by a qualified health professional.



Check that the coach has had a background check.
Source: The National Cheerleading Safety Foundation. For more information, visit www.nationalcheersafety.com.