To Your Health
March, 2011 (Vol. 05, Issue 03)
Healthy Recipe Makeovers
By Carey Emmons, RD, LDN
Yes, the new year's in full swing and with it, another year of opportunities to improve your health. How are you doing so far? The last thing you want to do is to sabotage your resolution to eat healthier by spoiling it with high-calorie, high-fat items. Fortunately, you have options. Show your love for yourself (and others) in a more health-conscious way this year with lower calorie, more nutritious sweet treats, appetizers and entrees made using a few simple recipe substitutions. Here are a few quick examples to get you started:
Cinnamon Raisin Muffins
Prep time: 15 minutes; bake time: 15 minutes; serves 12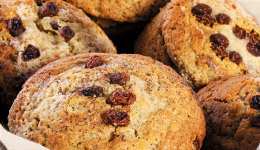 What You Need:
2 cups whole-wheat flour
3/4 tsp. baking soda
1/2 tsp. salt
1/4 cup light brown sugar
1/4 cup honey
1/2 cup egg substitute
1 cup applesauce
1 tsp. vanilla
4 tsp. cinnamon
1/2 tsp. nutmeg
1/3 cup raisins
What You Do: Pour all ingredients (except raisins) into a large bowl. Stir until well-blended. Now stir in the raisins. Spoon into paper-lined muffin trays. Bake at 350° F for 15 minutes.
Why It's Better: Using whole-wheat flour in place of refined white flour is more healthful because whole-grain flour contains vitamins, minerals, antioxidants and fiber, unlike white flour, which has been stripped of all nutrients except for the vitamins and minerals that are added back in as part of the enriching process. Also, using egg substitute in place of regular eggs saves about 12 grams of fat, as well as using applesauce (in place of oil) cuts out about 960 calories!
Chocolate Chip Cookies
Prep time: 20 minutes; cook time: 10 minutes; serves 24
What You Need:
1 cup low-fat butter (sticks), softened
1 cup sugar substitute
1 cup packed brown sugar
1/2 cup egg substitute
2 tsp. vanilla extract
3 cups whole-wheat flour
1 tsp. baking powder
2 tsp. hot water
2 cup semisweet chocolate chips
What You Do: Preheat oven to 325° F. Cream together the low-fat butter, sugar substitute and brown sugar until smooth. Beat in the egg substitute a little at a time, and then stir in the vanilla. Dissolve baking soda in hot water. Add to batter. Stir in whole-wheat flour and chocolate chips. Scoop with a medium ice cream scoop onto ungreased pans. Bake for about 12 minutes or until edges are slightly brown.
Why It's Better: Most low-fat butters have about 28 percent less saturated fat then regular butter. (Find one without hydrogenated oils!) Using a calorie-free sugar substitute (in place of white sugar) saves about 774 calories, and using egg substitute (in place of regular eggs) saves about 6 grams of fat. Also, using whole-wheat flour increases the fiber content in the recipe.
Hot Artichoke and Spinach Dip
Prep time: 15 minutes; cook time: 25 minutes; serves 12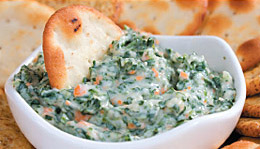 What You Need:
1 (8 oz.) package fat-free cream cheese
1/4 cup low-fat mayonnaise
1/4 cup grated part-skim Parmesan cheese
1/4 cup grated part-skim Romano cheese
1 clove garlic, peeled and minced
1/2 tsp. dried basil
1/4 teaspoon garlic salt
1 (14 oz.) can artichoke hearts, drained, chopped
1/2 cup frozen chopped spinach, thawed and drained
1/4 cup fat-free mozzarella cheese