To Your Health
December, 2011 (Vol. 05, Issue 12)
The Facts of Fructose
By Marlene Merritt, DOM, LAc, ACN
People are quick to say that the reason we are so overweight in this country is because we eat too much and don't exercise enough. But if that was so, how do you explain the epidemic of obese six-month old babies? Are they not spending enough time on the treadmill? Any theory that tries to explain the obesity and diabetes epidemic must also be to explain this as well, or it's not a fully accurate theory. Let's look at what actually does explain this.
Everyone knows that fructose is the sugar found in fruit. And if it's found in fruit it must be safe, right? Wrong. This misconception is being perpetrated by the food industry and we are falling for it, simply because most people don't know the details or the impact. Let's take a look at those details.
First, a few basics. Fructose is the simple sugar found in fruit. Glucose is the simple sugar that our body runs on, and is the result of carbohydrates being broken down. Sucrose (white table sugar) is a 50-50 makeup of fructose and glucose. So the first thing to remember is that white table sugar also has fructose in it. High fructose corn syrup (HFCS), which everyone demonizes, is a combination of 55-45 makeup of fructose to glucose (typically), and since fructose is quite a bit sweeter than glucose, that little bit makes HFCS sweeter as well. You'll see in a moment, though, why white table sugar and HFCS should be viewed with the same suspicion.
The corn industry has a campaign that argues that sugar and HFCS are basically the same, which is accurate. But they're arguing that they are both safe, and that we cause health problems because we all eat too much of both. The 1986 FDA report said sugar was safe when consumed in the current amounts, which, at the time, was an average of 40 pounds per year of added sugars. It would be great if people were eating 40 pounds per year — the average these days is 140 pounds. The health problems we see are coming because of the overload and because fructose metabolizes differently and with different damage, than glucose.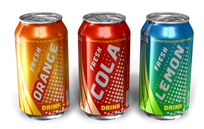 We have forgotten that nature designed fruit so that we couldn't overeat fruit because one, the fiber would fill you up, and two; fruit was seasonal (you'll notice now it's not — we have blueberries available all year) so it's easy to eat too much. Keep in mind also that fruit and vegetables have been bred over the years to have a much higher sugar content than their wild counterparts.)
We've been trained to think that sugar merely causes your teeth to rot, makes PMS worse, and makes people fat. But those things are mere inconveniences compared to the bodily damage glucose and fructose do — some of the results are the same for the two sugars, and some are substantially different. You could eat the same amount of calories for glucose and for fructose, but the health consequences are quite different.
Let's talk about how fructose behaves in your body. For starters, it's not at all like glucose — it doesn't trigger insulin at all, but goes directly to the liver to be metabolized. The term "low-glycemic" is often used with high fructose products (like agave nectar) which is totally accurate — it doesn't put glucose into the bloodstream at all because it has no glucose; it's all fructose. That doesn't mean it's safe, though. Because it doesn't trigger insulin, the body can't tell that it's full. And fructose also suppresses leptin (which would tell you if you were full) and does NOT suppress ghrelin (which makes you think you're hungry). The end result? Fructose has you eat more.
Fructose is also seven times more likely than glucose to make AGE's — Advanced Glycation Endproducts. They are named AGE's for a reason — they cause you to age faster. You know how if you cook sugar long enough it caramelizes? That's basically what happens in your body with glucose and fructose. When proteins in your body are caramelized like that (glycated), they are permanently damaged and can never recover. And AGE's are implicated quite strongly in Alzheimer's, cardiovascular disease, stroke, cataracts, nephropathy, heart attacks, atherosclerosis, arthritis, etc. The list is quite long. This is one of the main reasons diabetics have such health problems.