To Your Health
April, 2012 (Vol. 06, Issue 04)
Chiropractic on TV Again: Check Your Local Listings
By Peter W. Crownfield
Schedule a vacation day away from work or program your DVR to record "The Doctors" this Monday, April 23 (click here for local listings).
The April 23 episode, dedicated to the theme of "That pain may not be what you think," features another television appearance by Dr. Fabrizio Mancini, president of Parker University. Dr. Mancini appeared on the
March 14
episode of "Dr. Phil" in a segment discussing chiropractic care and his new book,
The Power of Self-Healing
.
The April 23 episode is significant from a chiropractic perspective not only because of Dr. Mancini's appearance, but also because multiple segments emphasize the chiropractic philosophy of "treat the cause, not the problem" – what goes on in one part of the body can affect other parts of the body, and pain in one area may actually be caused by a problem somewhere else.
During Dr. Mancini's segment, the audience first watches a video that outlines how a female patient went to see Dr. Mancini, complaining of low back pain as her primary symptom. Dr. Mancini examined her, finding problems in her pelvis, low back, upper back and neck. In addition, he noted that the patient was "putting 50 percent more weight on one foot" compared to the other. Dr. Mancini then was shown adjusting the patient.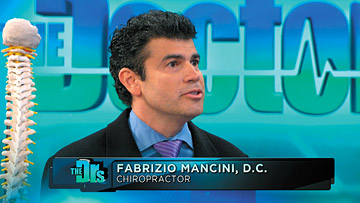 "The Doctors" episode featuring Dr. Mancini aired April 23, only weeks after his appearance on "Dr. Phil." As the video concluded, Dr. Mancini and the patient came out on stage to talk to the show's lead host, Travis Stork, MD. Dr. Mancini said what makes chiropractic unique is that DCs "look for the cause of the problem, not just management of the symptoms," and outlined how his patient was likely suffering from various stresses contributing to her symptoms. For example, the woman had a busy travel schedule and had suffered a prior accident (physical stress); her diet included too much sugar, which Dr. Mancini said stresses the nervous system and causes inflammation (chemical stress); and the stress of starting a new business was causing tension in her spine (emotional stress). Dr. Stork echoed Dr. Mancini's point, telling viewers that stress can reflect itself in different areas of pain.
Dr. Mancini also shared that "the body communicates through the nervous system." As he spoke, images appeared on the screen behind him, showing the spine and suggesting its ability to communicate with the entire body. Dr. Mancini also mentioned that many chiropractors perform adjustments using hand-held manual devices. As he explained how the device corrects misalignments, he demonstrated its use by clicking it several times on a spine model.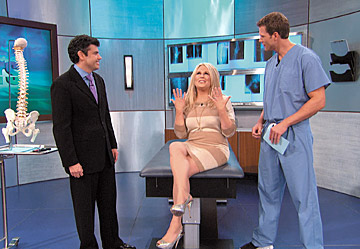 Dr. Mancini's patient shares her enthusiasm about chiropractic care with "The Doctors" lead host, Travis Stork, MD: "I have never felt so good ... I feel like I am a new person." Photos courtesy of "The Doctors" The patient herself may have made the most impact on audience members / viewers when Dr. Stork asked her how she was doing. Her enthusiastic response: "I have never felt so good ... I feel like I am a new person and I can't wait to see what will happen going forward."
As mentioned, "That pain might not be what you think" was a recurring theme throughout the show, not just in the chiropractic segment. For example, one segment featured a triathlete who sought treatment for shoulder pain and numbness in his leg, among other symptoms. The man visited a medical doctor, who found he had a "tethered cord" and ultimately corrected it via surgery. The segment reinforced the notion that the site of pain does not always indicate the source. Even more important, viewers heard that a spine problem can cause pain in multiple parts of the body.
In another segment, Dr. Stork spoke with a pharmacist about managing diabetes. Dr. Stork described the two types and talked to a woman in the audience who had just been diagnosed. His advice: "You can do things in your life to help manage diabetes. ... [You can] change the way you eat ... foods can have a huge impact." Dr. Stork mentioned specific dietary changes the woman could pursue, including eating more whole grains, fruits and vegetables; and also suggested being more active on a daily basis. From a wellness perspective, viewers learned that there are simple ways to improve your health that don't require drugs.