Taking acetaminophen (common brand name: Tylenol, but also found in a variety of multi-ingredient medications including Excedrin) may make you feel less pain (although it won't address the cause of your pain), but it also may blunt your feelings in general, particularly empathy: the ability to feel or understand what another person is experiencing from...
When you experience back pain, chiropractic care can help relieve the pain and identify the underlying cause. But your care shouldn't stop once the pain stops (or comes back, which can frequently happen). A new study suggests maintenance chiropractic care (defined by the researchers as "treatment at regular intervals regardless of symptoms") is more...
It makes sense that your cell phone can occupy your brain when you're using it; but guess what? Its mere presence can also take a mental toll. According to a paper published in the Journal of the Association for Consumer Research, even when a person is able to avoid the temptation to check their phone, the fact that the phone is there reduces the...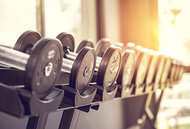 Weight training and aerobic exercise are two important components of a well-rounded fitness plan, and evidence suggests both can help facilitate weight loss: one by burning calories (aerobic exercise) and the other by increasing lean muscle. But which is better for heart health? While exercise in general reduces cardiovascular disease risk, weights...
We're talking about red meat and recent research that implicates increased red meat consumption with increased risk of mortality. Among more than 80,000 U.S. men and women who participated in the Nurses' Health Study and the Health Professionals Follow-up Study, increases in meat consumption over an eight-year period increased the risk of death in the...
Psoriatic arthritis is a chronic inflammatory disease affecting the skin and joints. A form of arthritis that afflicts psoriasis sufferers, the condition is characterized by joint pain, stiffness and swelling that can be disabling. Imagine dealing with not only psoriasis, but also arthritis; you'd be willing to do just about anything to reduce the...