To Your Health
June, 2011 (Vol. 05, Issue 06)
Too Ineffective
Back surgery "has been accused of leaving more tragic human wreckage in its wake than any other operation in history," according to Gordon Waddell, MD, director of an orthopedic surgical clinic for over 20 years in Glasgow, Scotland.
"Low back pain has been a 20th century health care disaster," said Waddell. "Medical care certainly has not solved the everyday symptom of low back pain and even may be reinforcing and exacerbating the problem."
In 2010, researchers reviewed records from 1,450 patients in the Ohio Bureau of Workers' Compensation database who had diagnoses of disc degeneration, disc herniation or radiculopathy, a nerve condition that causes tingling and weakness of the limbs. Half of the patients had surgery to fuse two or more vertebrae in the hopes of resolving their low back pain. The other half had no surgery, even though they had comparable diagnoses.
After two years, only 26 percent of those who had surgery had returned to work, compared to 67 percent of patients who did not have surgery. Of the lumbar fusion subjects, 36 percent had complications and 27 percent required another operation. Permanent disability rates were 11 percent for patients undergoing surgery, compared to only 2 percent for patients who did not undergo surgery. In what might be the most troubling finding, researchers determined there was a 41 percent increase in the use of painkillers, with 76 percent of surgery patients continuing opioid use after surgery. Seventeen surgical patients died by the end of the study.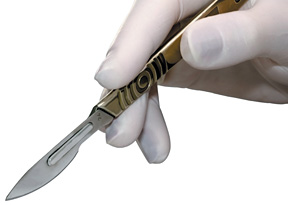 The study provides clear evidence that for many patients, fusion surgeries designed to alleviate pain from degenerating discs do not work, according to the study's lead author, Dr. Trang Nguyen, a researcher at the University of Cincinnati College of Medicine. His study concluded: "Lumbar fusion for the diagnoses of disc degeneration, disc herniation, and/or radiculopathy in a workers' compensation setting is associated with a significant increase in disability, opiate use, prolonged work loss, and poor return-to-work status."
Commenting on the procedure in general, Dr. Nguyen said, "The outcomes of this procedure for degenerative disc disease and disc herniation make it an unfortunate treatment choice."
In 1994, the U.S. Public Health Service's Agency for Health Care Policy and Research (AHCPR) conducted the most thorough investigation into acute low back pain in adults and came to the following conclusion in its Patient Guide: "Even having a lot of back pain does not by itself mean you need surgery. Surgery has been found to be helpful in only 1 in 100 cases of low back pain problems. In some people, surgery can even cause more problems. This is especially true if your only symptom is back pain."
In his 2009 article, "Overtreating Chronic Back Pain: Time to Back Off?" Dr. Deyo speaks of the shortcomings of medical spine treatments in the U.S.: "Jumps in imaging, opioid prescriptions, injections, and fusion surgery might be justified if there were substantial improvements in patient outcomes. Even in successful trials of these treatments, though, most patients continue to experience some pain and dysfunction. Prescribing yet more imaging, opioids, injections, and operations is not likely to improve outcomes for patients with chronic back pain. We must rethink chronic back pain at fundamental levels."
Dr. Deyo is not alone in his call for reform in spine care. The editors of The Back Letter, a newsletter from the Department of Orthopedic Surgery at Georgetown Medical Center in Washington, D.C., agreed with his frustration:
"The world of spinal medicine, unfortunately, is producing patients with failed back surgery syndrome at an alarming rate ... There is growing frustration over the lack of progress in the surgical treatment of degenerative disc disease. Despite a steady stream of technological innovations over the past 15 years – from pedical screws to fusion cages to artificial discs – there is little evidence that patient outcomes have improved ... Many would like to see an entirely new research effort in this area, to see whether degenerative disc disease and/or discogenic pain are actually diagnosable and treatable conditions."
Chiropractic: The First Option for Back Pain
According to Pran Manga, PhD, a health economist, "There is an overwhelming body of evidence indicating that chiropractic management of low back pain is more cost-effective than medical management." He is not alone in his assessment. Numerous international and American studies have shown that for nonspecific back pain, manipulation is heads above all other treatments. In fact, Anthony Rosner, PhD, testifying before the Institute of Medicine, stated: "Today, we can argue that chiropractic care, at least for back pain, appears to have vaulted from last to first place as a treatment option."